A Great Round "If" We Had a Rifle Designed to Shoot It!
We have discussed doing a video on the M855A1 cartridge for quite some time. Looking over all the information it seemed to make more sense to do it in a blog article where it could be articulated better. There are several issues with the new M855A1, none of which are based on the performance of the ammunition. Problems are caused by the pressure it is loaded in and the projectile type, which significantly decreases bolt and barrel life of any firearm it is put into.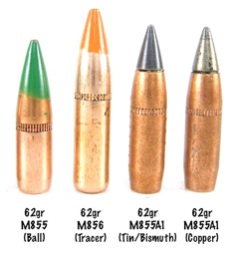 Shown above is a comparison of the M855, M856 Tracer, early M855A1 and the issue M855A1. The difference between the early and issue M855A1 projectile is the plug under the penetrator. Early projectiles used a tin/bismuth alloy. It was found there was not enough mass to it to properly stabilize in the arctic environment so they switched over to copper. Lead has more mass to it than either the tin/bismuth or copper alloy for the same weight. You have to have more copper to get the same weight. You will notice that the M855A1 projectile is just slightly longer.